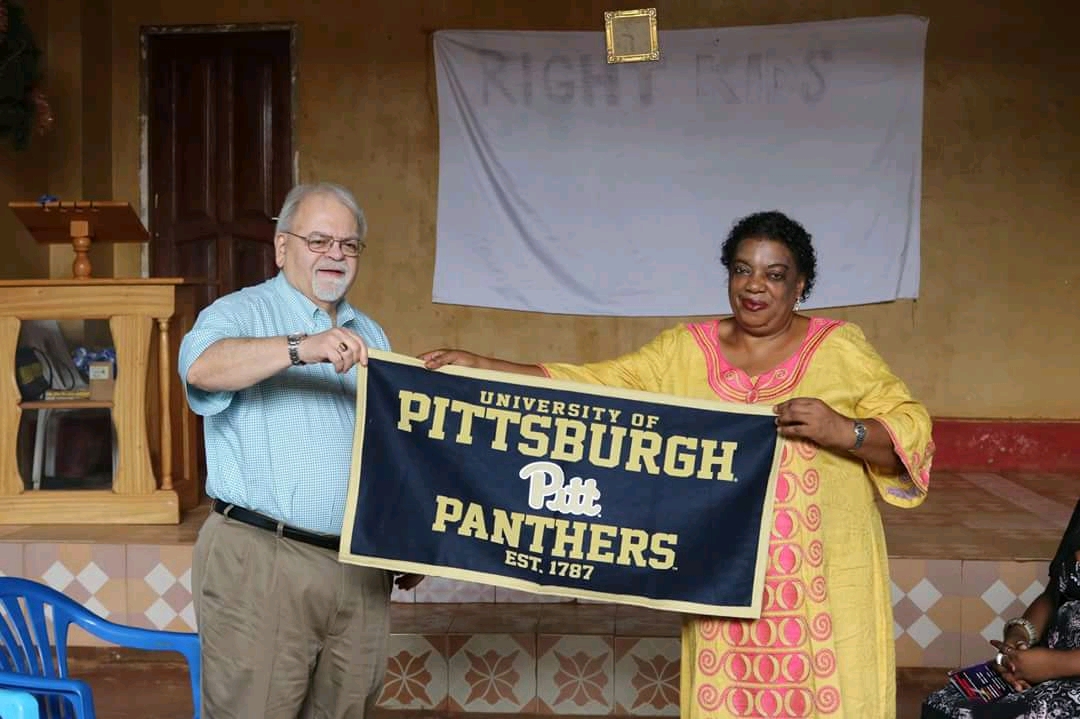 Bright Kids Uganda was proud to welcome members of the University of Pittsburgh's staff, researchers, and interns for a ten-day welcome program to Uganda. The program allowed for our guests from Pitt to gain a full understanding of the work we do at BKU, as well as the work done by our partner organizations located around the country.
We began our first day together, a sunny Monday morning, with a scavenger hunt to allow everyone to familiarize themselves with our neighborhood. Then, after some rest, we took everyone to get the supplies they would need to make their first week as comfortable as possible, such as cellphone service, toiletries, water, etc.
The following day, we began our morning  with a short lesson in Luganda. Over the next nine days the team would learn how to greet one another in Luganda, count, and describe simple activities, such as wanting to eat and sleep. Then, we set off to tour the BKU campus, offices, and mini-supermarket, all within walking distance. We then ventured to Noah's Ark Home and School to discuss its operations and staff. By mid-day, we were all ready to have some lunch and assist our staff in baking some cakes for the BKE Bakery.
The next day, we paid a visit to Great Kings and Queens primary school and the Katwe suburb, guided by our dear friend, director of Great Kings and Queens, and former Bright Kid, Medi Bugembe. Medi was gracious enough to share his story about going from a street boy of Katwe to a now prominent member of his community and educator to hundreds of children. We were then greeted by Medi's wonderful students as they prepared for their exams. Later, we toured a bit of Katwe, where we met with the local chancellor and enjoyed an energetic and acrobatic  performance by a local youth dance troupe. It was an eye opening experience for many to see the conditions in which many Ugandans live and that we and our partner, Medi, work to improve.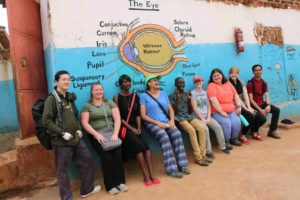 Following our day at Great Kings and Queens, we dove into learning more about the BKU Microloan Program and the refugee camps for the Southern Sudanese up north. We heard a brief presentation on the state of refugee camps and the need for better conditions for refugees up north. Then we heard from two of our Micro-loan borrowers, Betty Nankajjako and Jane Nansubuga. They shared their hardships in running a small business and the relief of receiving loans to bolster them. Then, to further explore the micro-loan program, we paid visits to several other borrowers in the Entebbe-Kasubi and Kampala region. After a lunch break, we finished our day with a demonstration of the BKU soap making project, lead by Lukyamuzi Joseph.
On Friday, we began our morning meeting with our usual Luganda lesson and a presentation by Dr. Louis Picard, Pauline Greenlick, and Paige Alderson on their "Hidden People's" project, a project which looks to shed light on the physically disabled persons who are ostracized by their communities.  Following their presentation, we went to see Justine Mpagi and her staff at the Centre for Rehabilitation of Survivors of Acid and Burn Violence (CERESAV). There, Justine explained the work CERESAV does to foster acid burn survivors from the societal stigmas and hardships which affect them. We toured the facility to see all that CERESAV is doing to empower its survivors (teaching sewing and tailoring, selling baskets, etc.).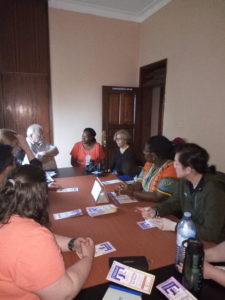 Saturday was dedicated entirely to rural entrepreneurialism. Abdul Ngobya, an education consultant and farming investor, lead the day, beginning first with a presentation on his agricultural ventures and the state of agricultural entrepreneurialism in Uganda. Then we toured several rural development sites, including BKU's very own farm, and later in the day Ngobya's farm sites.
Sunday we took some of the team to Ngamba Island, also known as Jane Goodall's "Chimp Island", to learn about ecological wild life management happening just a boat ride away from our campus. Guided by the island staff, we observed one of the chimpanzees daily feedings. Not only did we learn about the chimps and how they are being cared for there, we also learned about the various animal conservation efforts happening in Uganda. To end the day, we took a short boat ride to BKU's site on Nsazi Island. After setting up camp, we enjoyed dinner and a traditional dancing performance by a local dance troupe.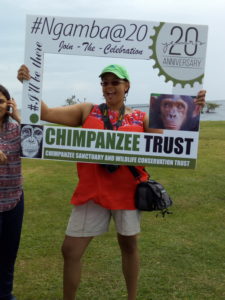 The following morning, we relaxed and gathered ourselves in preparation for the return back to Entebbe. The rain delayed our plans for a hike and tour of the island, however, we caught enough sunshine to get back in time to debrief with one another and have dinner.
The last day of our welcome program was devoted to hearing from our guests about their research projects, internship plans, and overall intentions for the weeks to come. We were delighted to host our guests before they went on their separate routes.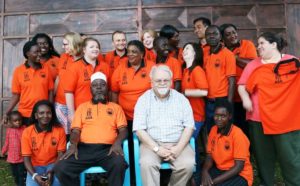 By Afia wa Mwenze, Bright Kids Uganda Intern 2018